The Story
A story of pure gold
In the year 1939, The Danish artist Tom Bramsnæs` great-grandfather, Carl Valdemar Bramsnæs, heroically saved all of the Danish gold reserves, by secretly transporting it out of the country shortly before the German occupation in 1940.
When the German occupying forces had invaded a country during World War II, they went straight after the country's gold reserves, which could then finance their further war and ravages through Europe. Carl Valdemar Bramsnæs was aware that this also could happen in Denmark and wanted to prevent that the Danish gold suffered this catastrophic fate. He was at that time the Director of The National Bank of Denmark, The Royal Danish Mint, and in 1939 he secretly managed to move the entire Danish gold reserves out of the country, first to Sweden & Norway and then by ships to New York.   –  His heroic act is the reason that Denmark still has their gold reserves today.
At the time, no one could know anything, but today there are both a book and a documentary about the heroic story. 
After the occupation ended, the Danish gold was transported back to Denmark, and today one of the original gold bars is on display in the entrance hall of The National Bank of Denmark.
The Danish Gold Coins are designed by the Danish artist and designer Tom Bramsnæs, who is the great-grandson of the Danish Finance Minister and Director of The National Bank of Denmark, Carl Valdemar Bramsnæs. In an interpretation of Tom Bramsnæs` own artistic background and the unique history of his great-grandfather saving all the Danish gold, Tom has created the Danish Gold Coins. The National Bank of Denmark, The Royal Danish Mint, granted Tom Bramsnæs permission to gild the Danish coins with 24-carat pure gold to create the unique Gold Coin jewellery. The minimalistic and aesthetic design is a trademark of the Danish designer and the beautiful golden coins are gracefully hand made into jewellery.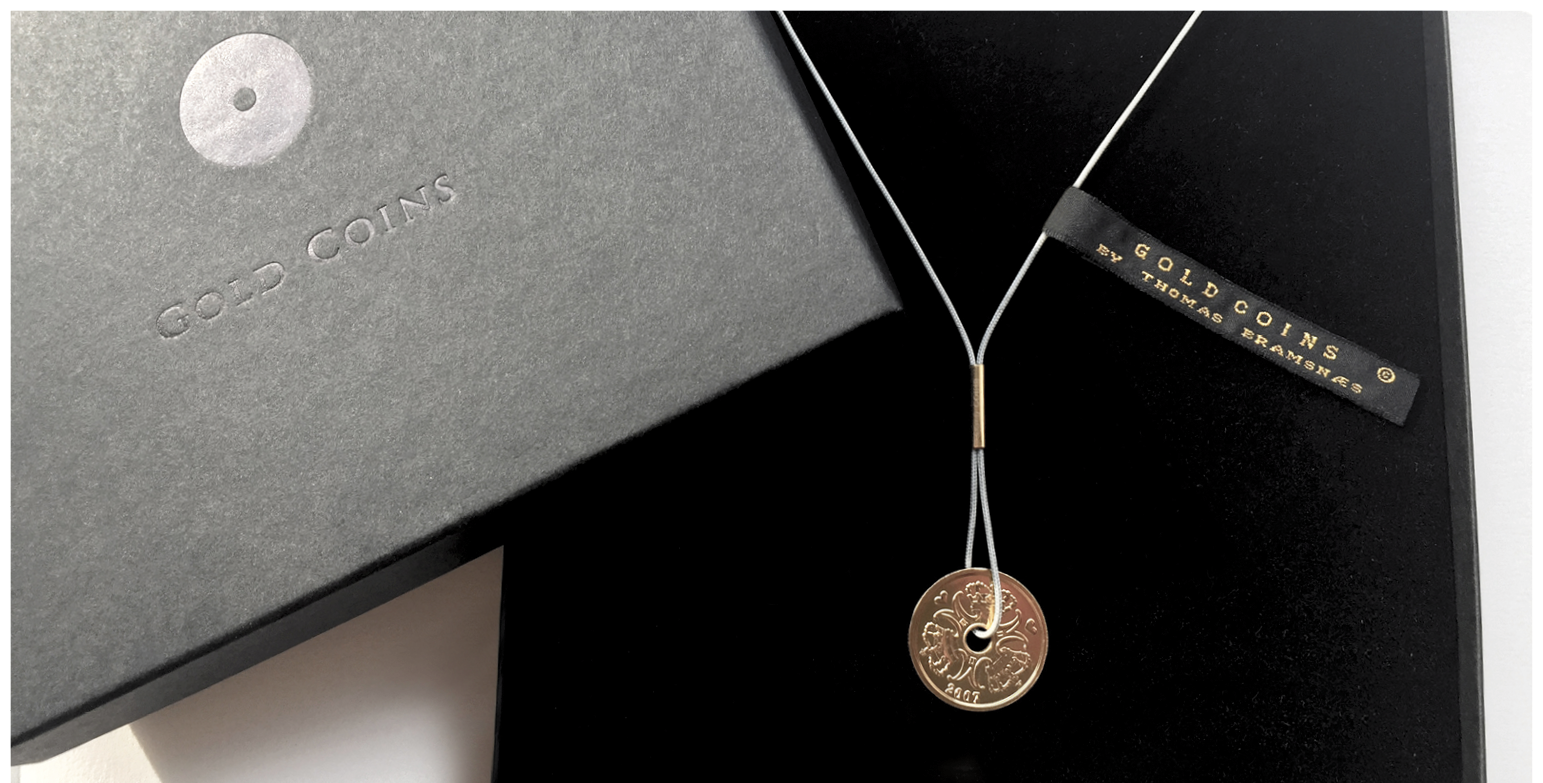 Gold Coins, Copenhagen, Denmark
Phone / (+45)  26 81 45 71
Mail /  info@goldcoins.dk